Testimonials
Jenny Morrison - Sydney January 2020
Truly the best week I have ever had, what a different learning experience than I have had previously, when I was taught Microblading (with no theory and in a class of 15!) just no comparison, I will in future only study with a college that offers this one on one training.
Michelle Harris - New Zealand Port Macquarie December 2019
I travelled to complete my practical with Donna at the Port Macquarie head office in December I was amazed at her knowledge, as a nurse myself I thought I had a lot of knowledge but her expertise on the skin and how to use needles for various effects was an inspiration. The training kit was ample and I have now purchased enough needles and accessories to see me through the next few months, then I will be back to complete the Paramedical Course. Many thanks for all the support I am getting.
Rebecca Hinds -Own Salon Sydney November 2019
This was an amazing 5 days to gain my Diploma in Cosmetic Tattooing & Microblading. The theory on line was very advanced and provided the education I needed to really understand the skin and the systems. Learning one on one provided the best for me in my own salon, I could choose the days I completed the practical component. Nicole in the office never tired of my calls and questions and since then I have been able to send in my work to be guided on colours of pigments. I am loving the Lush pigments for the microblading too.
Justine Hefel - Sunshine Coast - November - 2019
The four days with Leigh were fantastic and not only did I enjoy my time and training days with her, I truely appreciate her immense knowledge and skills. She is a great teacher and woman. You have all done such a wonderful job and Donna should be proud of her College and all of you that keep the wheels rolling and represent the college. I have been in constant praise and strong recommendations of the entire course, process, and everyone involved. I found the content and structure of the course to be of highest standard and depth and the most professional and thorough, not only within Queensland but in Australia. I am very much looking forward to further training courses.
Tracy Porter - Subiaco WA- October - 2019
Thank you so much for organising my training with Nicola at Sugar and Brow in Perth. Nicola gave me every minute of her time in those three days, she was warm. welcoming, professional and extremely knowledgeable. I feel privileged to have had that time with her. In addition to the above I am also impressed and appreciate the way everything was organised, from the online course to the face to face training and arranging the models. In the meantime I will keep up the practice and maybe look at another course or two.
Reese Nguyen - Sydney - July - 2019
Just finished two days Art of Brows course with Jun and I'm so satisfied. Jun is verry knowledgable, thorough and explained everything really well. I feel so much more confident with machine hairstrokes after just two. Definitely come back for more! Thanks so much Jun and thanks ACTC!
Kayla Uncles - Sydney - May - 2019
My trainer was Jun. I loved my course and I thought jun was very professional and informative. i will definitely look at doing more workshops with her. Overall extremely happy with my whole experience
Nam Giang Hoang - Sydney - May 2019
Jun was an amazing trainer, she gave me all her knowledge and answered all my questions. I was so confused before the training, but after the course I knew I made the right decision. Thank you so much Jun. I would like to say that if you want to take a tattoo course, don't hesitate to use Australian Cosmetic Tattoo College as my trainer was amazing.
Nam Giang Hoang - Sydney - May 2019
I was so happy with my trainer Jun Ye. She was amazing, willing to explain and answer any questions. She gave me much more knowledge than I thought I could get. So enthusiastic for the future. I will come back to your college for advanced courses.
Ongoing student support
Hi Donna,
I have never met you but I did study with your college with Rebecca in January this year. I have sent you quite a few questions when I was stuck and wanted to say that I appreciate your help. You replied to me quickly when I needed it most.
I wanted to say that I have l performed over 70 tattoos now and can really see growth.
Jenny Griffiths
My training with Leigh Webb was fantastic. Leigh made me feel very confident in myself and is a great trainer. The only thing was I thought we would leave with a kit and not use it in training.
Samantha Saul - Sydney - March 2019
Jun was amazing and extremely attentive and focused to my learning. She had a great teaching style, provided feedback where needed, assisted where needed, demonstrated where needed. Yes I feel competent, however of course i will initially be nervous being completely independent.
Melissa Pirrello - Sydney - March 2019
I had a wonderful experience doing the cosmetic tattooing course with Jun very professional and very experienced, I will defiantly be back to do more of the courses
Kirstin Walker - Victoria - March 2019
My trainer was Rebecca Rea. I have been very pleased with the support from the office staff through to my trainer. Its been a great experience.
Alysha Granger - Perth - March 2019
Nicola She is amazing can't wait to do more courses with her, her knowledge in the industry and work is amazing
Maddie Hudson - Sydney - March 2019
My trainer was Jun Ye. I really enjoyed the course Design and Provide Cosmetic Tattoo. Jun was an amazing teacher and I learn't so much. She was so informative and skilled and I can't wait to come back and train more with her. I cannot thank her enough for the skills she has provided me with.
Susann Evans - Tallabudgera - March 2019
Had a fantastic day with Leigh today, I learnt so much. She is the best Cosmetic Tattoo teacher I have ever been to. As a student I found her uplifting, professional and a true teacher, unlike so many I have come across. I'm grateful to have had the opportunity to learn from her.
Erica McHeyzer - Brighton - January 2019
I have to say - wow just really happy with ACTC. I had previously heard from numerous other therapists, who had completed a short microblading course say that it wasn't enough, plus they weren't ready to perform treatments once they had finished their training and paid so much (not through your college). I still took the risk and found you through google and it has really paid off. Lorraine was excellent at clear and concise communication upon my first google search query, and Rebecca's help has been monumental, she really knows the perfect amount of nurturing to give me in order to guide me through the day. She is friendly, knowledgeable and intuitive, which are a perfect combination for any trainer. I understand that I am still practising when I finalise my training, however, I also feel confident to commence cosmetic tattoo in my own beauty clinic right away once I receive my order, this is also partly due to the fact there will be valuable online support when required.
Anne Nguyen - Port Macquarie - January 2019
I trained with Donna in Port Macquarie. Firstly, I would like to extend a BIG thank you to everybody at ACTC. Thank you Lorraine, for your assistance from start to finish - your kind patience with my millions of questions at the initial enquiry have made it so easy for me to enrol - and so glad that I did. Thank you Donna, for sharing your wealth of information and experience with me during the short time that we shared. With your help, I now feel very confident and excited to make a mark in the real world. I'm so glad I had such great support to kick start my new journey ahead. Happy to recommend over and over!
Kim Vo - Gold Coast - December 2018
My Trainer was Leigh Webb. If you are hesitating on doing the 'Design and Provide Course'.... dont! just do it and you won't regret it! Trust! I completed my training in QLD with Leigh. I felt anxious and nervous for about two weeks before the class started because I didn't believe that I can do it - to learn/create eyebrows, eyeliner and lip tattoo in 4 days :S . Also, I didn't want to let my partner, trainer and myself down because a lot of money and time will be wasted. Leigh made me feel comfortable and gave me hope that I can actually do it. She told me on the first day that I would be capable by the last day of training and to my relief I felt confident by the second last day. As it is a 1-1 training, I felt like I was being mentored rather than being tutored. It just felt relaxed and natural. Her 12 years+ of experience and knowledge really does shine through her teachings. I am very glad that I have completed my cosmetic tattoo training with ACTC. I have learnt the basic techniques and now to practice practice practice to build my craft. I cant wait to do further training with the college :) Finally, I would like to thank Lorraine - Course Co-ordinater for replying to my endless emails and being patient with me. She was straight forward, simple and answered to all my queries. x Kim
Rhonda MacPhail - Port Macquarie - December 2018
My trainer Donna Moody Martin is amazing at her profession and an excellent trainer. I could not be happier with the training I received from Donna and her staff were incredibly helpful as well. I would highly recommend Donna and at the Australian Cosmetic Tattoo College.
Rebecca Brimmell - Gold Coast November 2018
Brilliant staff - including all administration staff I spoke to while enrolling & throughout my course. Leigh Webb is fabulous & extremely patient. I will be recommending this course to all the beauty therapists I know.
Mary Nunez - Gold Coast - November 2018
Leigh Webb was an excellent trainer, amazing knowledge and personality. She made me feel very comfortable with her calm and very encouraging words. I would like to have Leigh as my trainer for any future training I may take.

Amber Thompson - Sunshine Coast - November 2018
Leigh was amazing Really happy with the outcome and her teaching.
Tiana Le Prince Campbell - Sydney - October 2018
Jun Ye was my trainer and she was excellent.
Bianca - Hobart - June 2018
I would like to further pass on my gratitude to the College (Lorraine) for being so patient with my finance application process and for her general understanding. I Have dealt with many education methods and this experience has been very enjoyable due to the compassion and teaching qualities of staff and trainers of the College. My Trainer Sue - was exceptional. I found Sue to be very thorough in her teaching. She was patient, understanding yet straight forward in her advice and hints to help me develop better skills. Sue went above and beyond with her advice and helping me, her warm nature was amazing and all models (mostly friends and family) commented on this. I can not wait to do another course with Sue in the future.
Aysha - Sydney - May 2018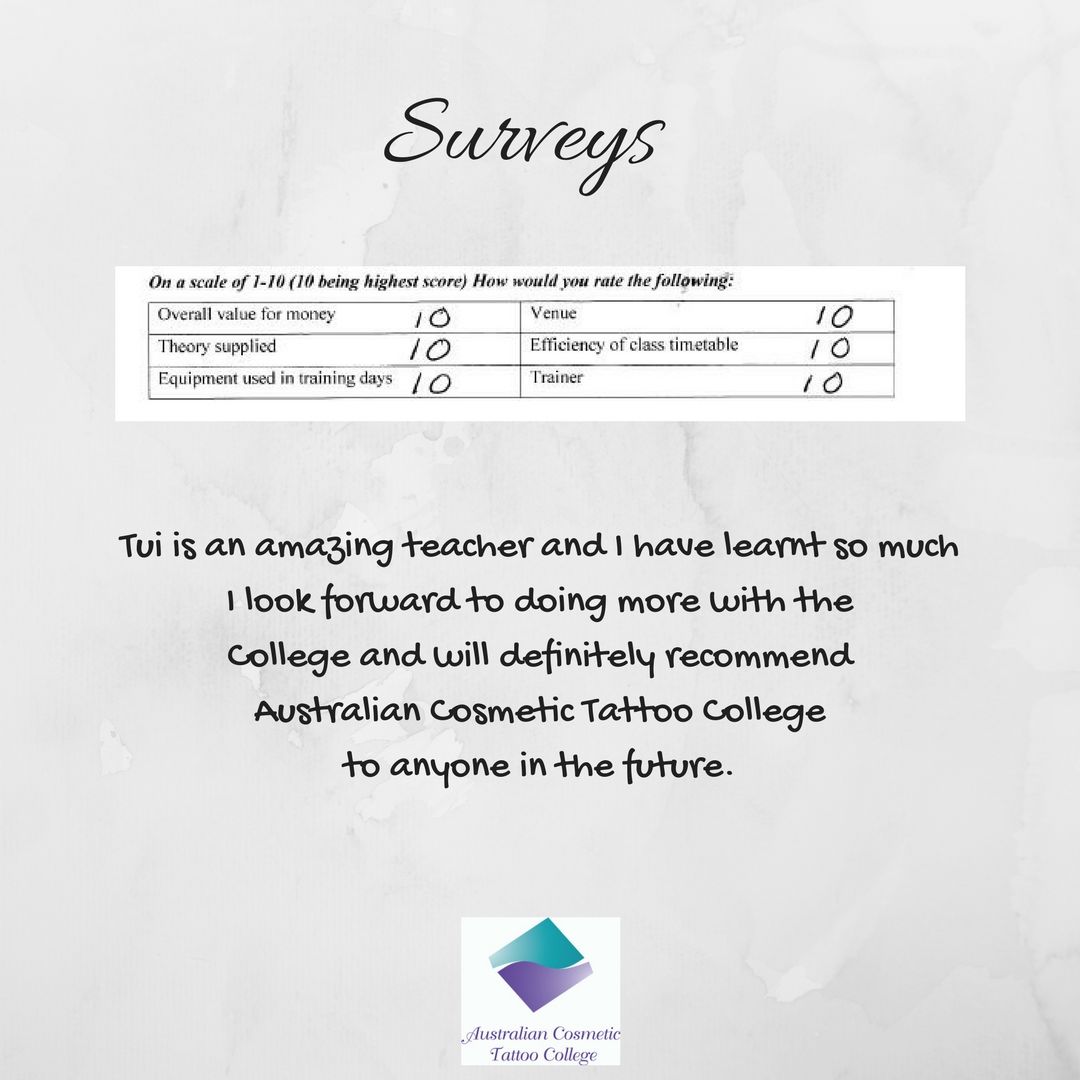 ---
---
Loved the course, I only had 5 models however I feel that was enough. I would have been too rushed otherwise on Tuesday the second day.
Overall stoked with the outcome and highly recommend Australian Cosmetic Tattoo College
Emma - Sydney February 2018
---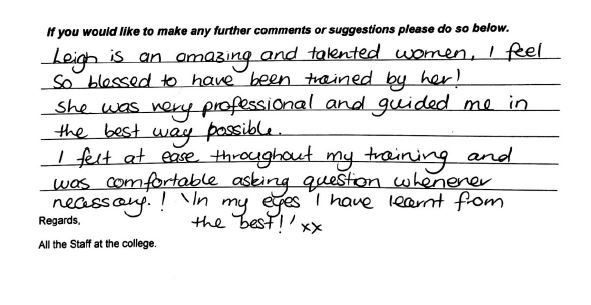 January 2018
---
My name is Michelle and my trainer was Tui. She was excellent and very knowledgeable, she has also provided me with exceptional support after my course which has been so helpful.
Thank you Tui, I would recommend her to everyone!
Michelle - August 2017
---
---
My name is Karralla and I trained with Junie Ye. Overall I was very happy with the training provided. I must admit, I am quite nervous to practice on my own but I'm sure once I do a few more people it will get easier and my confidence will
grow.
Junie was a fantastic teacher, offering a lot of advice and knowledge in the area of eyebrow tattooing. It was a huge amount of information to take in so I'm happy that when I have questions along the way I can call Junie or the college and ask.
September 2017
---
Stoked with the outcome of my course for Micro-blading and would highly recommend to others.
Jessica - 2017
---
The College's services as a whole was awesome. I had Leigh Webb for the second time training with the College and she is absolutely amazing. I travelled over from New Zealand and loved every minute of it.
Katrina DeMartin in Wellington - 2017
---
My exprience with Leigh Webb was fantastic. She was a great mentor and really encouraging and supportive. She was very organisedand gave detail on expectations and assessment. I would highly recommend others to train with her.
Sheridan Ellis in Queensland 2017
---
---
Great training - very informative.
Carmel in Newcastle 2017
---
Loved the experience, enjoyed every minute. My trainer was lovely and explained everything I needed to know.
Zeynab in Sydney 2017
---
My experience with ACTC was excellent, Thank you
Beverley in Queensland 2017
---
Really enjoyed my 2 days of training with Donna. Thank you :-)
Jennifer in Port Macquarie 2017
---
I was incredibly pleased with everything. Thank you so much.
Jessica in Port Macquarie 2017
---
It was awesome, its changed me! Can't wait to come back.
Thank you
Katrina in Brisbane
---
I thoroughly enjoyed it! I really liked the fact that it was one-on-one training to gain the most out of it. Junie was fantastic in answering all questions and the information she provided was second to none. Junie watched every minute and guided me through beautifully. Once again, the one-on-one training was tops. I would not have done it if it was a normal class setting.
Thank you!!!!!
Tegan in Sydney
---
It was awesome, it has changed me!
Can't wait to come back for more training
Katrina on Gold Coast
---
First, thank you to the office staff for going the extra mile and getting me in, I really appreciate that...
Tui was an incredible trainer so patient and so knowledgeable I loved the training
Just a quick note to say thank you and to give you some feedback regarding Leigh Webb.
I couldn't have been in better hands! Leigh is very professional, kind and reassuring.
She is very knowledgeable and very willing to share that with her students.
Not once during my course did I feel unsure or concerned as Leigh guided me through the procedures when necessary and gave me the confidence to create some beautiful brows....one client even cried she was so happy!
I would highly recommend Leigh as an educator and will be spreading the word about her.
Thank you again for all your assistance and professionalism. I really have appreciated it.
Jacqui Rennell QLD 2016
---
My name is Hanh and I wanted to give you some positive feedback regarding your wonderful staff.
Recently I contacted your office and spoke with Cordelia several times about the Feather Brow Course. She very patiently and kindly explained what was involved and spoke with a very friendly tone. Just from this I felt confident that Australian Cosmetic Tattoo College was the training college
that I wanted to proceed with.
Once I was enrolled I began speaking with Kate. Again, the customer service I received was excellent. Kate was very polite and friendly when explaining the process. I explained to Kate what my personal circumstances were and she went out of her way to try and book me into the earliest training date
possible which I am so grateful for.
The last bit of feedback is regarding my trainer Sue Spinks. She was so positive, supportive and kind in the way she taught. Every time I felt unsure Sue would know exactly what to say to give me the confidence I needed. Not once did Sue show any signs of doubt or frustration. When I explained that one of my models pulled out Sue generously allowed me to practice on her! This will stick out in my training experience and goes to show how passionate Sue is in being a trainer.
My learning experience with your college was beyond my expectations and I will be recommending your college to anyone looking for training in this industry. I will be back for more courses.
Please accept my appreciation to your College and all the staff involved.
Hanh, NSW 2016
---
I was a student of Gayle Smith's in January 2016. I thoroughly recommend Gayle as a teacher for prospective students. My training was conducted on a one on one basis with Gayle and the amount of knowledge and information she shared with me was astounding. I had been floundering with my cosmetic tattooing for 12 months and was absolutely disheartened at my lack of progress.
One day with Gayle and I turned the corner with my work. I received practical tips, hands on tattooing with models and invaluable industry information for techniques, stockists, professional associations and further training. Training was conducted in a lovely hygienic premise with no interruptions, Gayle checked in constantly with me to make sure I had understood what she had taught me and was extremely generous with her knowledge. There wasn't a minute of the day wasted.
I thoroughly recommend training with Gayle Smith for anyone wanting to improve their cosmetic tattooing skills.
Carmel, WA 2016
---
I just wanted to say how much I enjoyed the course! Ahnna was an amazing teacher! I'm now up and running my own business and I wouldn't have been able to do without ACTC, the courses the college provides are so professional the theory is very thorough covering everything you need to know and learn, couldn't recommend ACTC enough.
Demi, WA 2016
---
I attended training in Sydney with Junie and was trained in Feather Brow. Junie was wonderful, in fact everyone that I have meet in the office has been lovely!
Vicki, Sydney 2015
---
I was trained in Sydney with Junie and I was completely happy with all services and training provided by the college. I have no complaints whatsoever, and have already recommended your college to my Beauty Therapist Colleagues who may be interested in undertaking a Cosmetic Tattoo Course. I can't thank everyone I dealt with enough. Much appreciated.
Jessica, Bankstown 2015
---
Lydia learnt Feather Brow Tattoo in Perth. Just keep up the amazing training :-) Donna was fabulous and could not fault the College in anyway.
Lydia, Perth 2015
---
Angela attended our 2-day Feather Brow Course and felt that the course was better than she had ever expected, she enjoyed every minute and can't wait to learn more with her new technique. All the College's services were tremendous.
Angela, Perth 2015
---
Gayle trained Feather Touch in Perth and our student Fallon was very impressed with Gayle's knowledge.
Fallon, Perth 2015
---
Donna trained Lucy at our headquarters in Port Macquarie the full Beginners Cosmetic Tattoo Course and she felt that she gave 110% to her (the student) and clients and she really respects her for that. Lucy is also interested in furthering her Cosmetic Tattooing skills at her earliest convenience.
Lucy, Port Macquarie 2015
---
Junie trained Jade in Sydney and thought that Junie did an amazing job, extremely competent and knowledgeable.
Jade, Sydney 2015
---
Alicia attended refresher training with Donna mid-2015 and had trained previously with another college. She felt that her refresher training was so much better than her previous and the trainer (Donna) was extremely knowledgeable.
Alicia, Perth 2015
---
Narelle attended a Beginners and Feather touch course in August and November 2015 and felt that Rebecca our trainer was a 10 out of 10. She was very happy with the training she received and her trainer was Amazing!
Narelle, Brisbane 2015
---
Leigh trained a student Suzanne in Queensland in January. She felt that Leigh was very knowledgeable and experienced. She was happy and all her questions were answered fully and she feels confident to move on with her new skill. She is keen to move on in 2017 and do the full Beginners Course and overall said that Leigh our trainer is Fabulous!
Suzanne, Queensland 2016
---
Our trainer Rebecca trained a student Tara in the Beginners Course and overall Tara was happy with Rebecca and said she was extremely knowledgeable. The one on one training is fantastic.
Tara, Brisbane 2015
---
Junie trained a student Jane in Feather Brow in Sydney and she scored the course overall a 10 out of 10. She felt that he class was better than she had hoped for and that the training given by Junie could not improve as it was soooo good!
Jane, Sydney 2015
---
Our student Mary learnt the Feather Brow in Sydney with our trainer Junie. She felt that Junie was a fantastic trainer and very patient at what she does and is looking forward to learning further with the colour techniques.
Mary,
---
I attended class in Collins Street Melbourne for an Advanced Day and appreciated having a mature teacher in Sue who had travelled further than I had to attend, she flew from Tasmania to work one on one with me and as she has her own salon I could relate to her, one of the best training sessions I have had.
Melissa, Ballarat Vic. (year 2013)
---
My Feather Touch one day class was held in Melbourne with Maxine she just loved Brows and so do I as that is all I want to specialise in. I knew she had taught Amy -Jean and all their staff in Sydney Melbourne and Gold Coast so I was on to a good thing!
Cherry, Geelong (year 2012)
---
On a personal level this was a great course. I loved the one-on-one attention and especially having Donna come to our salon. I have now booked for the Advanced Needling class. Can't wait.
Kristy, Melbourne VIC (year2013)
---
We decided to add Cosmetic Tattoo to our Salon in 2006. It was the best decision we made. We now have two therapists operating and both have completed Full Lip Class and Paramedical. We love working with the Medical Profession and feel this has been a bonus to our Spa.
Tanya, Perth WA (year 2006)
---
I have now completed the Beginner's Class and attended the seminar in Sydney this year (2008). I feel there is always so much to learn and Donna and Maxine make learning so easy. I studied Beginners with Donna and Maxine is the Feather Touch expert.
Tatiana, Sunshine Coast QLD (year 2008)
---
I went from a school teacher with no makeup experience or beauty experience to now working in 3 salons throughout the Gold Coast. I have also completed the Feather Brow class and it has allowed me to contact clients I completed brows on 3 years ago to have a new look with individual hairs. I look forward to the upcoming class in Camouflage. It is great having Janice in Queensland as I often talk with here if I experience any problems
Shirley, Paradise Point QLD (year 2007)
---
You have helped me so much in my new career. It has changed my whole life. Your trainer Cathy is an inspiration and takes so much time explaining colours as she is a hairdresser it all starts to make since about changing colours and using opposites to counter balance.
Paul, North Sydney NSW (year 2013)
---
You are an inspiration. Thank you for allowing Lisa to work with me, as she is local it has the added benefit of talking to a friend when I need to. I love the way you are keeping me updated throughout the years. It has now been 6 years since I completed. I have travelled overseas and am now looking forward to setting up my own salon.
Karen, Perth City (year 2008)
---
I could not believe that I felt so confident after just 4 days. Thank you for coming to our salon. I had no chance of getting to a capital city with two small children at home.
Megan, South Coast NSW (year 2009)
---
Meeting you 3 years ago at the Sydney Expo changed my whole direction in Beauty Therapy. I love art and makeup so this complimented them both. You have listened and given advice on all my problem clients and there have been a few (must be the New Zealanders).
Tracey, Auckland NZ (year 2006)
---
Student Story
Sandra Cohen
Previously I had been working as a Beauty Therapist in a large Salon. I found over the 8 years I had worked there that I was not achieving the results I would like. Sure, I was good at selling and I loved the I.P.L. but for the previous 4 years I had attended Beauty Shows at the Gold Coast, Sydney & Melbourne and saw so many different products and came away with many new ideas.
One idea appealed to me and I talked to the staff at the stand of M.B.C. and the Australian Cosmetic Tattoo College and booked to have my own Eyebrows tattooed in a class with a student. It was explained that it was under full supervision and this appealed to me. September 2003 changed my life and the life of my eyebrows! They looked perfect.
As I lay on the bed and listened to Donna explain to the student how to hold the skin, how to mix the colour, how to measure and make sure the client was happy all the time, I felt so excited. It was like I was learning too. The client booked in after me rang to change her time so a spot came about after lunch for a lip procedure - I was in!
I had lunch with the student and Donna and we all talked as women do! I think that was when I felt so comfortable that maybe this was the change I was looking for. With my new lips (a dusky pink and a bit puffy! I liked that look) I headed back to show the girls at work, even though it was my day off. This was the change I was looking for.
Just days later I rang the phone number on the card and asked to get information sent to me. I read through all the details and had a meeting with my salon owner who agreed this would be a great addition to the Salon. Just 2 months later I was a student in the class with Donna. I loved the personal approach. I attended the class in an Accredited College in Sydney as I felt I would prefer to be out of my own environment. I elected to attend an extra day and learn the Lip Blend and Full Lip which was a bonus.
I felt so excited and I notice that Donna gets excited herself just teaching you. The theory was a breeze but I believe it is more extensive as Donna adds to it each year.
In 2005, I went ahead and studied the Breast & Nipple Paramedical Class and now have work with a surgeon in Western Sydney. I also help at times when Donna does a free Breast Clinic.
In 2006, the salon was sold and I decided it was now my time to work alone. I had experience and wanted to work in the field of Cosmetic Tattoo only. My salon at home took off.
2008 has been one of the best years. I expanded by travelling out to another salon that had heard about my work. I now go once a month and work for the whole day. Usually I complete six procedures which brings me in $2,000 for the day after paying a commission so I am off overseas this year.
I never get tired of this exciting career. I was unable to attend the Feathering Class and Advanced Classes this year but will be attending the 2009 classes in Sydney. Sandy Cohen
Pam Stein - September 2015
---
I had fantastic time I had over the 4 days with my trainer, Gayle. What an amazing teacher she is! I learnt so much and she was so open, sharing so many tricks and hints too. We had many conversations about business, websites and brochures. She went above and beyond what I expected and was so thoughtful too. (She even made a delicious soup for our lunch.)
Gayle is a lovely person, patient and thorough. Her teaching technique filled me with confidence. I must say as a specialist netball coach myself, techniques for getting the best always include lots of praise and well worded constructive advice and Gayle certainly gave me plenty of that. The first day I left I am feeling super confident as Gayle was happy with my technique, telling me I was a natural, which was lovely to hear! I finished the course knowing I have a mentor with ongoing support just a text or call away and with a plan to seek another 5 models for each procedure and advise on the price to charge to cover my needles, ink, disposables and anaesthetics. With this plan in place I felt optimistic and confident that I will be ready to advertise in my business and be competent to produce professional work. Eighteen months on I now have my own salon and a thriving business with plenty of tattooing clients.
I believe Gayle is a wonderful teacher and thank you for selecting her to teach me. And thank you Donna, you have created a professional and intensive course.